Warehousing
Abhi Impact Logistics Solutions Private Limited offers to its clients specialized state-of-the-art customized and flexible solutions for warehousing and Inventory management based on JIT and FIFO.
Bonded & Non-Bonded Warehousing
Cold & Refrigerated Warehousing
Industrial Projects and Plant Shifting
Carrying and Forwarding
Yard Management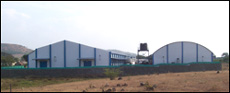 Pictures of our 100,000 Sq.Ft. warehouses at Wagholi, Pune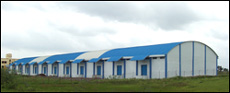 350,000 Sq.Ft. State of the art Warehouse available at Chakan
Bounded and non bounded warehouse
Meeting the warehousing needs for Various Types of Industries like Automobile, IT & Telecom, FMCG, pharmaceuticals, Consumer & Industrial manufacturing.
Provide all types of warehouses as per company need.
Provide infrastructure and material handling equipments.
Manage the resources needed for Logistics activity.
Providing the Office and IT infrastructure.
Management of Implant / Conventional Warehouse
Proper Handling of material.
Storage and Preservation of Raw material, spare parts and Consumable
Operating in in-house (at factory) or external store facility
Maintaining quality needs as per ISO, TS
Meet the Environmental and Safety needs laid by EMS and OSHAS
Implementation of System like FIFO, LIFO, Kaizen, 5S, Kanban
Continues process Improvements
Process Oriented Operation
Spare Part Distribution
Management of Service Spares Inbound and outbound operations
Storage and management of spare parts, Bought-out parts and Consumable.
Packing the spares as per requirement. Various solutions are Provided
Planning the dispatches through the distribution network.
Maintain the quality, environmental and safety norms
Distribution of finished product
Operate in in-house or external store facility.
Storage and management of Finish Goods.
Labeling and Bar-coding
Specialization in export worthy packing.
Provide best known Packing and Packaging solutions.
Dispatch through the Distribution network
Cross docking
Cross docking is a relatively new logistics technique used in the retail industry
Transfer incoming shipments directly to outgoing trailers without storing them in between.
Managing Gas Storages
Manage Gas inventory
Handling Gas like Hydrogen, Argon, CO2, Liquid Nitrogen Cylinders & Capsules
Maintaining filled and empty cylinder yards
Managing Cold Storages
Provide Cold Chambers and Air conditioned warehouses for Pharmaceuticals, Agro Industries, Food Products, Perishable Products
Shelf life monitoring and validation of products